Who Is Cosi?
BACKGROUND
Cosi is a top-selling Greek men's fashion denim brand famous across Europe for their unique designs and incredible comfort. The story of Cosi Jeans began 55 years ago. In 1959, a visionary in the field of garment manufacturing funded a Greek family wholesaling company. Three decades later, in 1989, the tradition evolved to create the second generation of Cosi Jeans Company. Founded on an innovative ideology about jeans, the company managed to preserve one of the most famous and beloved brands in Greece and Europe.
The secret behind Cosi Jeans is their partnership with diverse and extraordinary people throughout Europe and the world. Available in Germany, Italy, Austria, Cyprus, Albania, Bulgaria, Great Britain, and now online in Australia, these jeans are beloved the world over.
With design inspired by architecture, art, dance, rock music and continuously changing fashion, Cosi values creative expression through clothing. Continuous collaboration with great designers and minds have made their jeans iconic.
One exciting collaborator is Kurabo denim from Japan. Leading brands around Europe and all over the globe use Kurabo denim to create the most fashion-forward men's jean designs. Cosi's partnership with Kurabo has already resulted in jeans with ultramodern design and hand-painted washes that are reinventing men's fashion.
INSPIRATION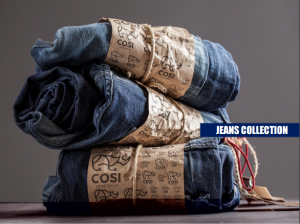 Cosi's inspiration is providing diverse customers with jeans that truly reflect who they are. We want men to feel at home in their clothes, while still standing out. Hence the emphasis on both modern rock star designs and comfort and flexibility.
The high quality customers have come to expect comes down to a number of factors. The first is fabric. Meticulously crafted using soft, absorbent cotton, the fabrics come from carefully selected manufacturers like Kurabo. Mixed with small amounts of elastic fibres, the jeans have a tailor-made feel that stretches and moves with the body.
Careful attention to detail extends to the design of the jeans. Unsatisfied with keeping up with the trends, Cosi aims to set them with designs that stand out from the crowd. Utilising 3D prints and one-of-a-kind washes, and the brand achieves a singular, unmistakable look.
At Wolfgang AM, we are excited to partner with Cosi to bring that singular style to the southern hemisphere. The goal of our international collaboration is to make the high-end fashion available to everyone by importing Cosi jeans for our online shop. Ground-breaking style and comfort are now available in Melbourne and across Australia.
Buy Cosi jeans from our online shop. We offer free Australia-wide shipping for your convenience.